Here's what SU-BOT, your 24*7 Digital Financial Advisor,
has on offer: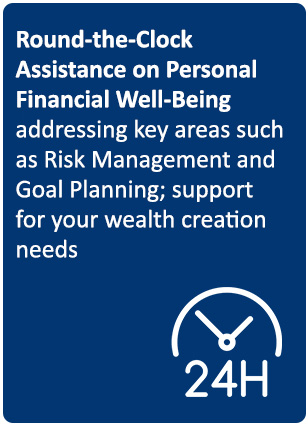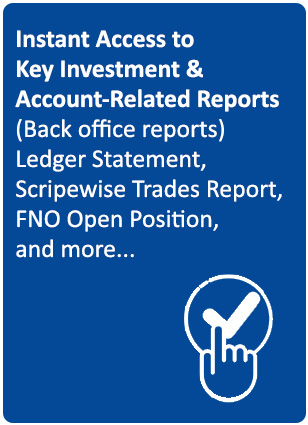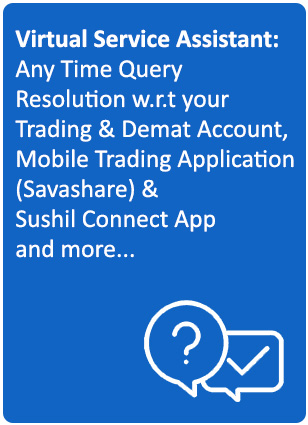 ...and a lot more...
---
Here's your key to SU-BOT's Virtual Service Desk:
GETTING STARTED

Step 1
Save this number


Step 2:
Just type a "Hi" and SU-BOT
will come to your service, right away.

Just log on to our website

corner of the page,
you will find SU-BOT saying a "Hi"
Just click on it and
you are good to go.
---
Sushil Financial Services Pvt. Ltd.
EQUITIES • CURRENCIES • INSTITUTIONAL EQUITIES • INTERNET TRADING • MF & IPO • PCG & NRI DESK • LAS# • DEPOSITORY
Research Analyst - SEBI Registration No. INH000000867 | RA related Disclaimer link:
http://bit.ly/2F1Qc4b
Sushil Financial Services Private Limited, 12, Homji Street, Fort, Mumbai - 400 001 • Tel. No. +91-22-40936000 • Fax No. +91-22-22665758. Member : BSE/ NSE SEBI Registration No. - INZ000165135. Depository Participant (CDSL) SEBI Registration No.- IN DP CDSL 194-2002. Distributor of Mutual funds and IPO - ARN No.77875. #through Sushil Capital Private Limited - NBFC No. N -13.01901. Disclaimer: All Investments are subject to market risk. Please read the offer document carefully before investing. *Terms & Conditions Apply. Grievance Id:
compliance@sushilfinance.com
• Email:
info@sushilfinance.com
• Website:
www.sushilfinance.com